In a Nutshell
Pip has teamed up with visual artist Ali Roscoe to create an exciting new project for Recepton and KS1. Combining the skills and experience of both artists, children have the opportunity to explore a theme through a variety of artforms.
Project Summary
Inspired by a book by Mary Murphy, this is an immersive project which focuses on letters, word play and storybuilding. Through live performance, dance and movement, visual arts and storycreation, we aim to:
Ignite the children's imaginations
Give them the opportunity to explore a theme through all of their senses
Develop their creative, expressive and cognitive abilities.
At present this is a 3 day project, each day leading on from the next. It would be possible to book day 1 alone, or days 1 and 2 together, if time/resources were more limited.
Project Description
Day 1
The children encounter the character of the alphabet keeper, who has the unusual hobby of trapping letters of the alphabet and keeping them caged in the dark. She sneaks up on the letters and quick as a flash she nets them and slips them in her bag, returning home to add them to her collection. One day, they escape and trick her, finally persuading her to change her ways and become a story collector.
Mary Murphy's story has been re-imagined in the creation of a live performance that combines physical theatre, comedy, audience interaction and narration. This is an engaging and lively start to the day and its exploration of the alphabet.
Through dance, movement, sound and visual arts, the children have the opportunity to embody their understanding of letters. They are able to encounter aspects of scale, shape, form, relationships and sound. They will be introduced to a range of stimulating and unusual materials for mark-making and letter-play.
Day 2 & 3
The children join the Alphabet Keeper in her new role as the Story Explorer. Depending on her final destination, this journey will take the children through a variety of landscapes and landmarks, meeting characters, creatures and myths along the way. Each day begins with a live performance, and is then followed by immersive workshops that involve a variety of artforms.
Inspired by the work of Vivian Gussin-Paley we will act out a selection of Travellers Tales created by the children along the way and finish with the making of a large artwork.
Destinations offered at present are the Rainforest and Space. We are happy for the schools to request themes but would need the minimum of one month to create appropriate workshops.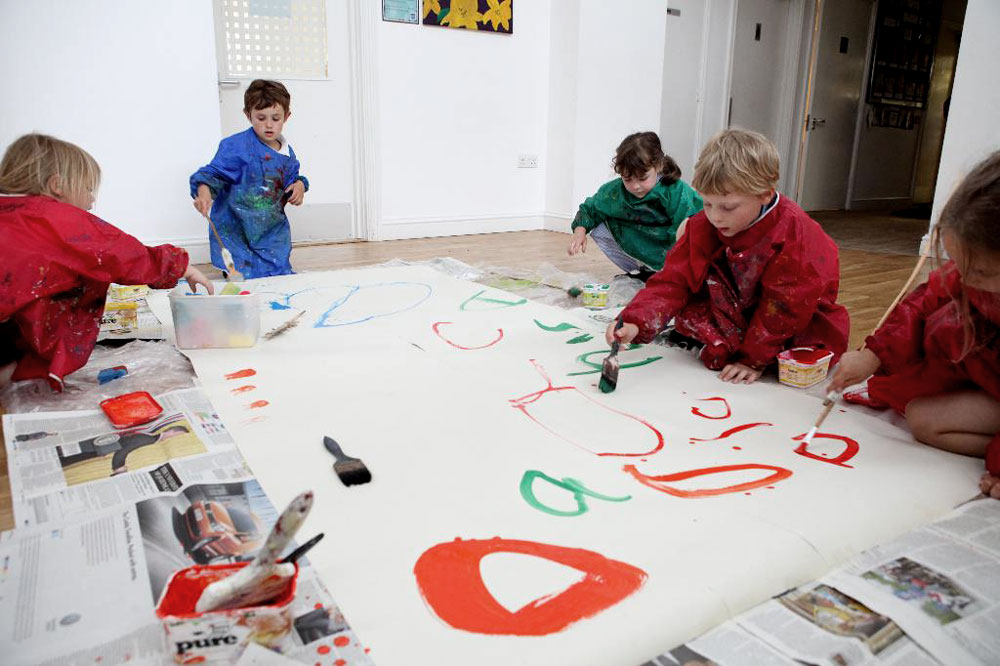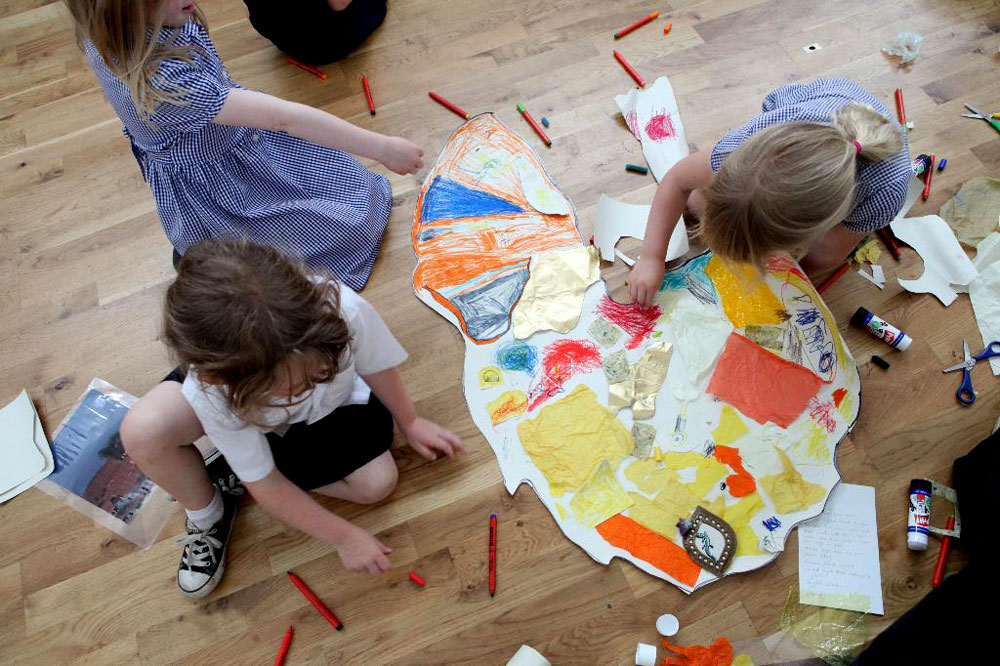 Feedback from teacher
Project's strengths
An opportunity for them to immerse themselves in this way of working for 3 days. A fresh injection of energy, with new faces to tell a story. An opportunity for real creativity and to be valued as story-tellers themselves. This dovetailed to our jungle topic so nicely. Access to unusual materials such as Lettraset, large brushes and the opportunity to work on a large scale with good use of space
Which stages of the foundation curriculum did the project fulfil?
Personal, social and emotional development
Communication and language
Literacy/writing
Understanding the world
Expressive Arts and design: Exploring and using media and materials
Being imaginative
What aspects of the work might most benefit your practice as a teacher?
The use of the storysquare/stage and confidence to try my own wall-hanging